The Annual Research Seminar for Professional Staff of Archives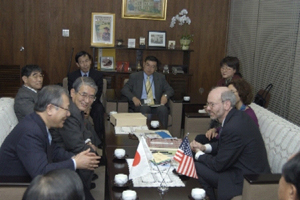 (Mr. Gary M. Stern visiting the President of the National Archives of Japan)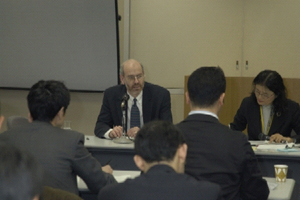 (View of the lecture by Mr. Gary M. Stern)
The National Archives of Japan provides an annual research seminar for the professional staff of local and national archival institutions. This seminar is intended to improve the quality needed for archival service by giving training on how to solve problems they face in their daily activities.
This year, the seminar took place for three days form the 31st January to the 2nd February under the theme of "Examination and Disclosure of Records in Archives--How we should open the historical documents in Japan", where there were 22 official participants from 22 national and local institutions across the country. For we also gave auditors opportunity to listen to a lecture by legal specialist, whom we invited form the U.S., there were 27 auditors from 22 institutions including those who have completed the Training Course for Professional Staff of Archives in the past.

The seminar started with a lecture by Professor Fujiwara Shizuo from Graduate School of Law, University of Tsukuba on "Access to the Historical Documents", and proceeded to another lecture by Mr. Gary M. Stern, the General Counsel of the U.S. National Archives and Records Administration under the theme of "Examination of Disclosure of and Access to Records in Archives" where he talked about the current situation of disclosure and examination of records in the U.S. The lectures were followed by question-and-answer session and group discussion.

Through the solution-oriented lectures by the intellectuals from Japan and the U.S. and productive discussion between participants, the seminar promoted better understanding of disclosure standards of each archives (such as whether they have regulations of personal information protection, or not).
There were comments from the participants such as; "the seminar helped to understand what to examine for issues of disclosure", "discussion period was not long enough", " it was very helpful to know the state of archives in other prefectures", and "it was very helpful to learn firsthand of case examples of the U.S."